China General Aviation Market Overview
Developing China's general aviation (GA) market has been a focal point of the Central Government for several years. Policies have been implemented aimed at attracting investors, building infrastructure, moving toward homegrown aerospace engineering and relaxing the bureaucratic process of operating a GA business and aircraft.

Covering a vast land mass, with a diversified land structure and large population, the GA industry has tremendous market potential. GA provides connectivity to some of the more remote regions in China, transporting goods and people. It also presents an opportunity in the agriculture sector, and likewise can be used for search and rescue, emergency medical services, law enforcement and for pilot training.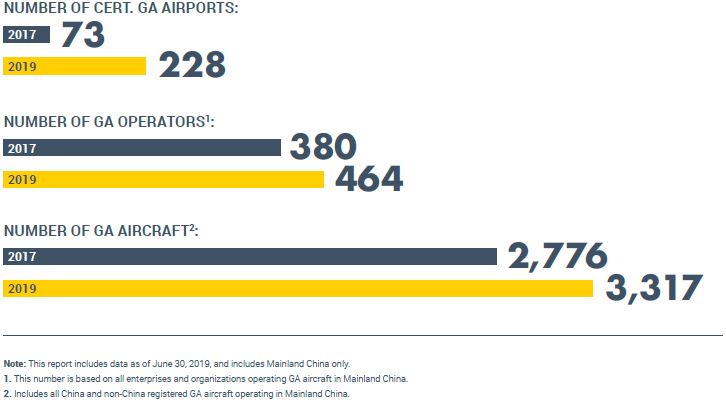 As of June 30, 2019, there were 3,317 GA aircraft in Mainland China. Half (50%) of those were turboprop and piston aircraft, while 36% were helicopters and 10% were business jets. The number of GA flights is on the rise, as well. At yearend 2018, GA aircraft flight hours reached a high, although the growth rate was much less than it has been in previous years. Reflective of the GA fleet, most fixed-wing aircraft and helicopter flight hours can be attributed to training, however, the total number of fixed-wing flight hours doubled that of helicopter flight hours. In the fixed-wing segment hours were also logged in passenger transport and air photography applications. Meanwhile, flight hours in the helicopter segment were dominantly logged in the offshore, law enforcement and air tourism segments.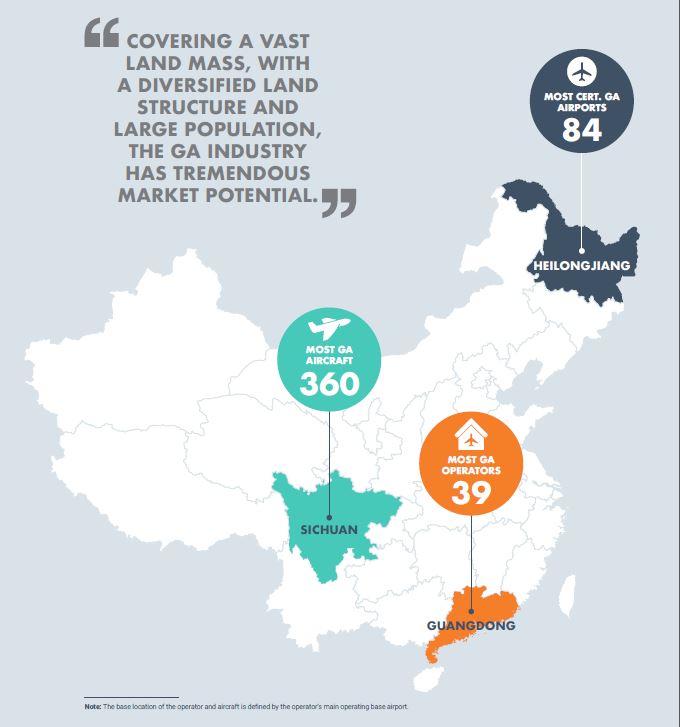 While the hopes for GA in China are high there are still a number of issues the industry faces. Past legislation on lower altitude airspace hasn't been enough, as operators are still faced with several conditions, which prioritize other segments of aviation. Additionally, the lack of infrastructure, particularly in highly congested cities, means operators must seek further approval. Finally, to fully develop the GA industry in China, a priority must be placed on cultivating talent to enter into the growing industry.